October marks what we in the desert call "the beginning of the season". The weather cools down and the snow-birds (winter-only residents) begin to return. Basically this means more people and lots to do.
This month I will be: exhibiting a painting in the Palm Springs Artist Council's Juried exhibition, finishing an exciting commission (witing about it in the next newsletter), riding my bike and exploring new avenues in paint.
Furthermore, Kelly Laughlin, artist, traveler, and yogini, came for a visit last month. She made a studio visit and wrote an inspiring blog post.
I share all this with you.r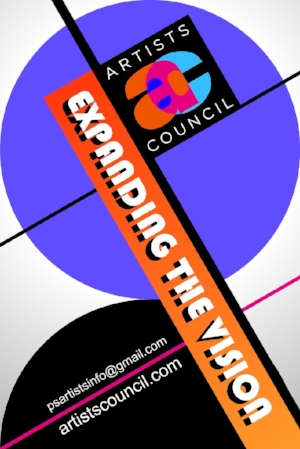 Artists Council Exhibition Awards Night
October 27, 2018, 5:45 p.m. in the
Annenberg Theater
MC: Patrick Evans, CBS Local 2
Reception: 6:15 - 8:00 p.m.
Show dates: October 20 - December 9, 2018 @Jorgensen Gallery and Marks Graphics Center
Palm Springs Art Museum
below is the Kelly Laughlin post, please read and check out additional offerings on her website.
Community and The Yoga of Life:
after six weeks of driving, i arrived in california. crossing the border, i noticed the sand, the hills, the open sky. the vast expanses of winding highway, the beautiful desert.
the first stop i made in california was to palm desert, to have lunch and a swim with kim manfredi. originally from baltimore, kim is an artist, a teacher, and an avid cyclist; her teachings were instrumental in the early development of my yoga practice. her vision to create, grow, and expand the charm city yoga network of studios (now operated by yogaworks) provided me, along with our vast community, with the space to find a home within our bodies, within our communities, within ourselves. now, within her new space as a california resident, i see much of the same determination and care that kim applied to her work in baltimore present in her new existence in california.
kim is an incredible soul. devoutly dedicated to movement and making, she approaches each practice with great care and attention. in the hot august sun, we swam in her pool, noticed the growing dates on the nearby palm trees, and talked about the necessity of dedication, the need to practice.
kl: how has your yoga practice changed since coming to california?
km: when I arrived in california and began to practice yoga I had a couple of "aha" moments. I always taught my students that yoga practice offers teachings that apply to life. for me, my move to california meant it was time to put these teachings into a new real-life context.
second, once I no longer had to teach students how to put a foot behind their head, I wondered why in the world would I ever do that to my body again?
my resulting yoga practice consists of three classes per week, mostly at a bikram studio where the classes are silent. I choose this form because the poses are effective and fairly simple. I can attend the classes with my husband and cycle in the cool desert mornings. I use the 90 minutes to invite ease into my body and peace in my mind.
kl: how do cycling, painting, and yoga influence each other in your life?
km: a real-life context for the application of yoga principles can be anything for anyone. for me, it is cycling and painting. I utilize the yoga practice as a reminder; like a guitarist practicing scales, I come back to the beginning. when I ride my bike or paint, I am faced with the joy of the art and the obstacles that go along with the endeavor.
the primary yoga teaching, according to patanjali, promises freedom when the practitioner can stand in silence with clear insight; when I cycle, I feel victory, defeat and everything in between. I apply the teachings of yoga recognizing the evaluations in my mind as subjective, relative, and simply opinion. the same is true while painting. this understanding liberates me from my own smallness and drops me in the sea of immortality.
furthermore, the community of friends that go along with painting and cycling fulfill my need for connection while providing the opportunity to continue to feel more and more comfortable with who I am.
having been the leader of a community for so long, it is marvelous to simply be a part of a group. to be a beginner in a group, to ask for help and feel vulnerable is liberating.
kl: picture a day where you're in the flow in the studio - what disciplines or routines help you attain that connection to creativity?
km: I am lucky enough to be in the flow of art-making each day. it is important that I begin most days with cycling because. it gets me outside, into the weather with the visual stimuli of nature. after breakfast I head to the studio; depending on where I am with a particular painting, I take time to do something routine like mixing colors, priming boards, or simply cleaning up. these tasksThis immerses me in the studio environment and I feel at home. when the painting begins I also stay aware of my thinking: I notice if I feel sure; if not, I offer a reminder to do my best. if I am critical, I offer a reminder to be kind. if I am anxious, I let myself paint more freely.
these waves of sensation are the same obstacles that arise on the mat in a yoga practice and on the bicycle during a long ride. the awakening to what is arising and the ability to embrace the arising makes me feel whole and very much alive.
kl: what are the materials, resources, books, or connections that help you thrive in the creative world?
km: I read a lot. I am always reading a novel and an art based writing. right now I am reading everything by- john berger. he's an art critic that hates being called an art critic. I can understand why; this guy is an artist who paints with words. currently, I am reading portraits. as berger profiles each artist he restricts the reader's visual access to the work. he offers a small black and white image of a work of art while relying on the verbal illustration to move us into the painters' universe. his literary approach to each artist or genre gives me insight and perspective that is stimulating on many levels. I love it. click on the image below to order the book.
I am also very involved with the palm springs artists council. we have a book club, life drawing, critiques, and a monthly social evening. the group keeps me connected to art and helps me with ideas and considerations present in the studio practice.
my go-to resources are our world, agnes martin, google and instagram.
kl: what do you think is most important to keep in mind when maintaining (creative) practices?
km: love yourself and stop trying to be good.
kl: what excites you most about your new work?
I am so excited about my new work. I am excited about finally living the life of an artist without the pressures of running a business. I love the beings and the worlds that are emerging in the new paintings. I love the freedom to mine art history and play in color. I love being a part of the conversation that is the art-world and I love the act of making.
thank you, kim!